I've had the privilege of exploring numerous destinations around the world, and Hong Kong has consistently been a favorite. I'll share essential tips and advice for a seamless and enriching journey through this vibrant city.
Essential Items for Your Hong Kong Adventure
Before embarking on your Hong Kong adventure, make sure to pack the following must-have items:
Universal Adapter: Hong Kong uses Type G electrical outlets, so ensure you have the right adapter to keep your devices charged.
Comfortable Footwear: With its hilly terrain and bustling streets, comfortable walking shoes are a traveler's best friend in Hong Kong.
Umbrella: The city's weather can be unpredictable, so having a compact umbrella on hand is a wise choice.
Sun Protection: Protect yourself from the sun's intensity with sunscreen, sunglasses, and a wide-brimmed hat.
Travel Insurance: We'll delve into this further, but having travel insurance is crucial for unexpected situations during your trip.
Dressing Appropriately in Hong Kong
Hong Kong's climate varies throughout the year, so packing suitable clothing is essential:
Spring (March to May): Mild temperatures. Dress in light layers and don't forget a jacket for cooler evenings.
Summer (June to August): Hot and humid. Opt for light, breathable clothing, and stay well-protected with sunscreen.
Autumn (September to November): Enjoy pleasant weather. Pack a mix of light and warmer clothing.
Winter (December to February): It can get cool and dry. Be sure to bring a heavier coat, gloves, and a scarf.
Embracing Local Culture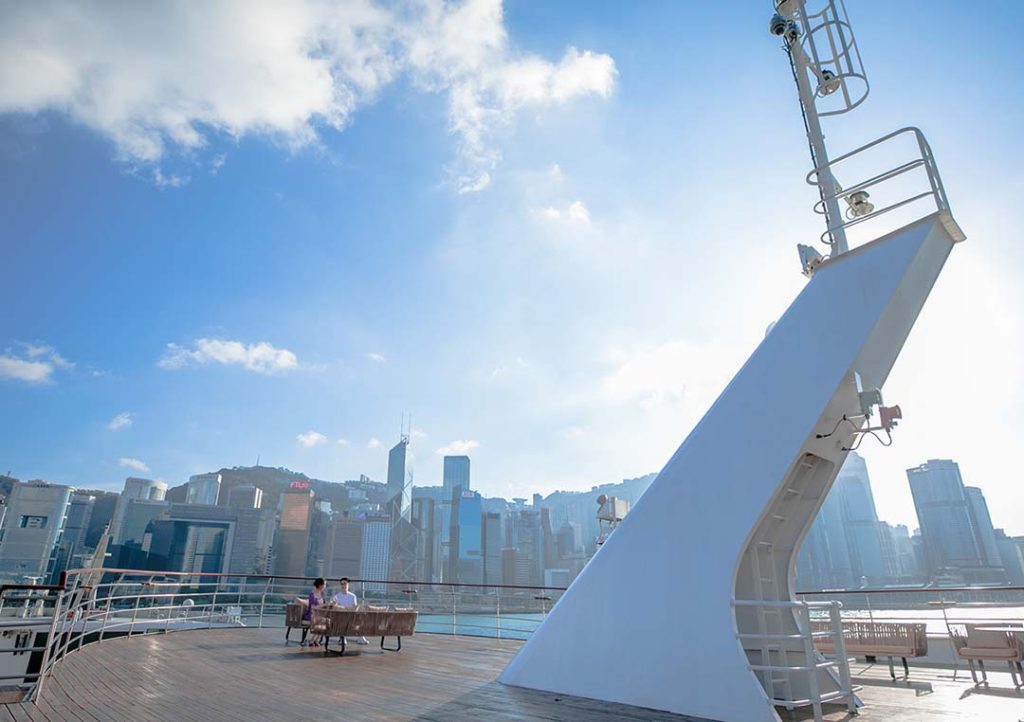 Hong Kong, with its rich history and cosmopolitan atmosphere, has a unique culture. To ensure you show respect for local customs:
Language: While English is widely spoken, learning a few basic Cantonese phrases can be a gesture of respect.
Respect for Elders: Show respect for the elderly by offering your seat on public transportation and keeping your conversations in their presence at a reasonable volume.
Tipping: Tipping is not customary, as service charges are often included. Nevertheless, leaving a small tip as a token of appreciation is always welcomed.
Queue Etiquette: Patience is key when waiting in line. Cutting in line is considered impolite.
Public Displays of Affection: In Hong Kong, public displays of affection are rare. It's advisable to refrain from them.
Packing the Right Travel Gear
Backpack: A comfortable and durable backpack is indispensable for exploring the city on foot.
Power Bank: Keep your devices charged with a power bank to stay connected throughout your journey.
Portable Wi-Fi Device: Although Wi-Fi is readily available, having a portable device can be a lifesaver, especially in unfamiliar areas.
Reusable Water Bottle: Save money and reduce waste by carrying a reusable water bottle. Many places offer free water refills.
Currency Exchange
The official currency used in Hong Kong is the Hong Kong Dollar (HKD). When it comes to currency exchange in Hong Kong, here are some helpful tips:
Airport Exchange: Currency exchange counters at the airport are readily available for travelers' convenience. However, it's important to note that these counters often offer less favorable exchange rates compared to other options. It's advisable to exchange only a small amount of money at the airport to cover immediate expenses like transportation or a quick meal upon arrival.
Bank ATMs: Hong Kong has a network of local banks with ATMs that usually provide competitive exchange rates. To minimize fees associated with ATM withdrawals, consider withdrawing larger amounts of money at once rather than making frequent small withdrawals. Be sure to check with your home bank about any international ATM fees that may apply.
Currency Exchange Shops: Throughout Hong Kong, you'll find numerous currency exchange shops. These shops often offer competitive rates, and they are particularly prevalent in popular tourist areas. Before exchanging your money, it's a good practice to compare the rates offered by different shops to get the best deal. Some shops may have slightly better rates or lower fees than others.
Credit Cards: Major credit cards, such as Visa, MasterCard, and American Express, are widely accepted in Hong Kong. They are a convenient option for most transactions, including shopping, dining, and hotel bookings. When using your credit card, you'll receive a competitive exchange rate, and it's a secure way to make payments. However, it's advisable to inform your credit card company about your travel plans to avoid any unexpected issues with card usage abroad. Additionally, be aware of any foreign transaction fees that your credit card company may charge.
Budgeting for Your Journey
Hong Kong can be a costly destination, but with strategic planning, you can effectively manage your expenses to make your trip more budget-friendly:
Accommodation: To save on accommodation costs, consider looking for budget-friendly options in areas like Tsim Sha Tsui or Mong Kok. These areas often have more affordable hotels and guesthouses. Alternatively, you can explore Airbnb listings or opt for hostels, which offer economical yet comfortable lodging.
Dining Economically: Hong Kong is famous for its diverse and delicious street food culture. For budget-friendly dining experiences, indulge in local street food, food stalls, and dai pai dongs (open-air food stalls). You can enjoy a wide variety of affordable and delectable meals, from dumplings to noodles and more.
Transportation: The Octopus card is your ticket to cost-effective and convenient travel on Hong Kong's efficient public transport system. This rechargeable smart card can be used for buses, trams, the MTR (Mass Transit Railway), and even for small purchases at convenience stores. It offers discounts and is more economical than buying single tickets for each journey.
Shopping Wisely: If you're looking for souvenirs and goods, consider shopping at local markets and outlets rather than luxury malls. Places like Ladies' Market, Temple Street Night Market, and Stanley Market offer a wide range of items at lower prices. Bargaining is also common in these markets, so don't hesitate to negotiate for a better deal.
Free and Low-Cost Activities: Hong Kong offers plenty of free and low-cost activities that can be both enjoyable and budget-friendly. Explore the city's scenic hiking trails, such as Dragon's Back or Lantau Peak, to experience nature and stunning views for free. Visit temples like Wong Tai Sin or Po Lin Monastery, which often have no entrance fees. Keep an eye on local event calendars for free cultural events, festivals, and exhibitions that you can participate in without spending much.
Navigating the Subway
Hong Kong's Mass Transit Railway (MTR) is a convenient and efficient mode of transportation. Here's how to navigate it:
Octopus Card: The Octopus card is a rechargeable smart card usable for MTR, buses, trams, and even purchases at convenience stores. It offers discounted fares and can be easily topped up at MTR stations.
MTR Map and Signs: Familiarize yourself with the MTR map and station signage in English.
Peak Hours: Avoid the MTR during peak hours (8-10 am and 6-8 pm) when it can get crowded.
Mind the Gap: Pay attention to the platform gap when boarding the train, especially if you're traveling with children or heavy luggage.
Priority Seats: Show courtesy by giving up priority seats to those in need, including the elderly, pregnant women, and individuals with disabilities.
Getting a Local SIM Card
Staying connected in Hong Kong is vital for navigation and communication. Here's how to obtain a local SIM card:
Airport Purchase: SIM cards are readily available at the airport, providing convenience for tourists. Compare offerings from different providers for the best deal.
Local Stores: You can also buy SIM cards from local convenience stores and mobile shops throughout the city.
Registration: Don't forget to bring your passport for registration when purchasing a local SIM card.
Top-Up Options: Most SIM cards come with data and call credits. You can top up your card at convenience stores and online.
Planning a 5-Day Itinerary
To make the most of your 5-day journey in Hong Kong, consider this sample itinerary:
Day 1: Exploring Central Hong Kong
Morning: Visit Victoria Peak for breathtaking city views.
Afternoon: Discover Central District, including Man Mo Temple and the Mid-levels Escalator.
Evening: Stroll along the Tsim Sha Tsui waterfront and catch the Symphony of Lights show.
Day 2: Hong Kong Island Adventures
Morning: Hike Victoria Peak after taking a tram ride.
Afternoon: Explore Hong Kong Park and the Hong Kong Museum of History.
Evening: Experience the vibrant nightlife of Lan Kwai Fong.
Day 3: Kowloon Discovery
Morning: Visit Wong Tai Sin Temple.
Afternoon: Delve into the bustling street markets of Mong Kok.
Evening: Relish a delectable dinner at Temple Street Night Market.
Day 4: Lantau Island Escape
Morning: Take a cable car to Ngong Ping Village and explore the Tian Tan Buddha.
Afternoon: Visit Po Lin Monastery and venture to the Tai O fishing village.
Evening: Return to Kowloon for dinner.
Day 5: Outlying Islands
Morning: Take a ferry to Cheung Chau Island.
Afternoon: Enjoy beach activities and explore the island.
Evening: Return to Central and have a farewell dinner at a rooftop restaurant.
Adjusting Your Budget
If you find that your spending is exceeding your budget, here are some strategies for regaining control:
Economical Dining: Opt for local street food or budget-friendly eateries instead of high-end restaurants.
Public Transportation: Stick to the efficient public transport system, which is both cost-effective and an excellent way to experience the city.
Limit Shopping: Prioritize experiences over material goods and restrict shopping to essential items.
Choose Free Activities: Explore the many free and low-cost attractions in Hong Kong.
Affordable Accommodations: Consider switching to more budget-friendly accommodation options.
Recommended Day Trips
If you have extra time and wish to explore beyond Hong Kong Island and Kowloon, consider these day trips:
Macau: Known as the "Las Vegas of Asia," Macau is just a ferry ride away. Explore its historic old town and modern casinos.
Shenzhen: A high-speed train journey can take you to the vibrant city of Shenzhen in mainland China, offering a different cultural experience.
Lamma Island: A short ferry ride from Central, Lamma Island offers a tranquil escape with hiking trails and seafood restaurants.
New Territories: Explore the less-visited areas of Hong Kong, such as Tai Po and Yuen Long, for a taste of local life and scenic landscapes.
While we hope for smooth travels, unforeseen circumstances can disrupt even the most meticulously planned trip. Having travel insurance ensures that you're covered in case of trip cancellations, medical emergencies, or lost belongings. It provides peace of mind and is a crucial part of responsible travel.
From the stunning views atop Victoria Peak to the dynamic energy of Mong Kok's markets, there's something for every type of traveler. The city's unique blend of cultures, traditions, and cuisines makes it a destination that's both exciting and enriching.
Whether you're a first-time visitor or a returning traveler, Hong Kong's dynamic atmosphere and diverse attractions continue to captivate. By following these tips and recommendations, you can ensure a smooth and enjoyable journey while exploring the best of this incredible city.