I have had the privilege of discovering various corners of the globe, each offering its distinct charm and experiences. One city that truly left an indelible mark on me is Chicago, renowned for its rich history, iconic architecture, and vibrant culture. During my recent visit, I had the opportunity to stay in a boutique hotel, adding a unique dimension to my trip. I will share my personal experience of residing in a boutique hotel in Chicago while also recommending five other boutique hotels of a similar ilk. I will provide detailed insights into each hotel, including their names, locations, surroundings, services, facilities, pricing, special promotions, my overall recommendation, and more. Additionally, I will divulge the best ways to reach these hotels from the airport and train stations, as well as where to book your stay.
My Boutique Hotel Experience in Chicago:
Hotel Name: The Robey Chicago
Location: 2018 W North Ave, Chicago, IL 60647, USA
Nestled in the trendy Wicker Park neighborhood, The Robey offers convenient access to boutique shops, art galleries, and a vibrant culinary scene. Furthermore, it enjoys proximity to public transportation hubs, facilitating city exploration.
Exceptional concierge service, 24-hour front desk assistance, complimentary Wi-Fi, a rooftop lounge with awe-inspiring views, a well-equipped fitness center, and pet-friendly accommodations.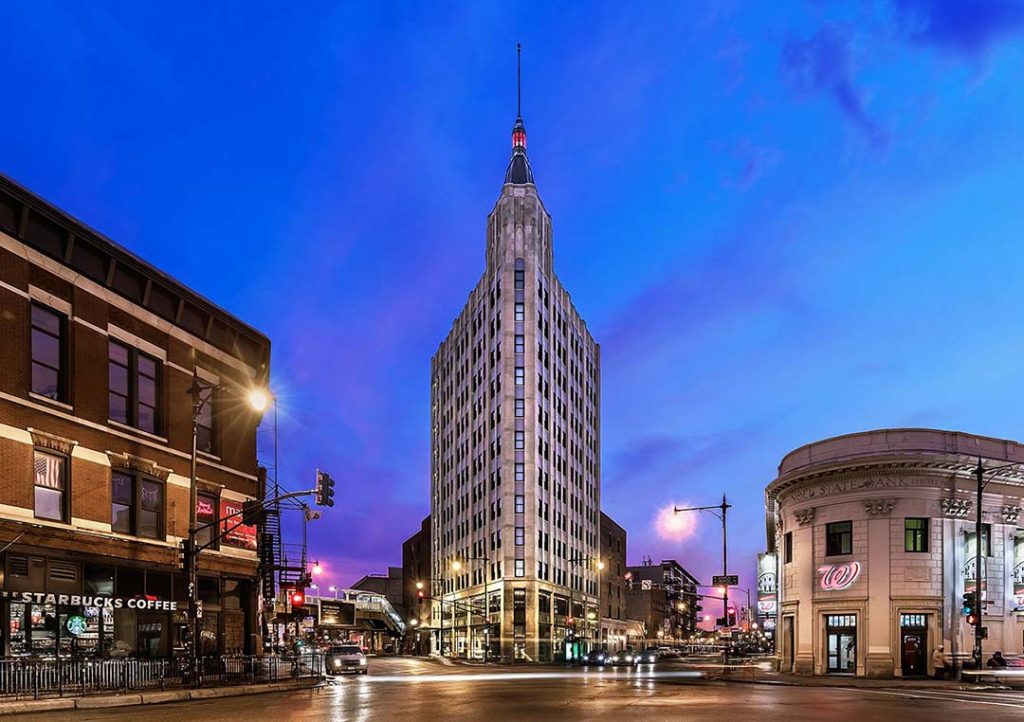 Impeccably designed rooms featuring stylish decor, a rooftop pool for relaxation, and various dining options to cater to diverse tastes.
Seasonal promotions, discounted rates for extended stays, and enticing package deals that include access to local attractions.
Moderate to upscale, with rates subject to seasonal fluctuations.
I wholeheartedly endorse The Robey Chicago for its chic design, prime location, and outstanding service. It seamlessly caters to both business travelers and tourists seeking a distinctive experience.
How to Reach from O'Hare International Airport:
Taxi or rideshare: Approximately 30-40 minutes, contingent upon traffic conditions.
Public transportation: Board the Blue Line "L" train from O'Hare to the Damen station. From there, a brief walk will lead you to the hotel.
Booking Platform: Personally, I secured my reservation at The Robey Chicago through a popular online travel agency.
Recommended Boutique Hotels in Chicago
The Hoxton, Chicago
Situated at 200 North Green Street in the heart of Chicago's dynamic Fulton Market District, The Hoxton, Chicago, boasts a coveted location that immerses you in the pulse of the city's vibrant energy. This boutique gem places you at the crossroads of cultural richness and urban sophistication, providing a gateway to an array of unforgettable experiences.
Nestled in Fulton Market, The Hoxton, Chicago, offers direct access to an eclectic dining scene that spans from innovative culinary concepts to beloved neighborhood eateries.
As the sun sets, the Fulton Market District comes alive with a vibrant nightlife scene. Chic bars, rooftop lounges, and live music venues dot the area, ensuring that your evenings are filled with excitement and memorable encounters.
Beyond the immediate surroundings, The Hoxton, Chicago, provides convenient access to both the trendy West Loop and the bustling downtown area. This central location ensures that you can easily explore renowned attractions, iconic landmarks, and cultural hotspots without venturing too far from your stylish base.
The Hoxton, Chicago, is committed to ensuring your stay is flawless with the assistance of a dedicated 24-hour concierge team. Whether you seek reservations at exclusive restaurants or recommendations for local hidden gems, their knowledgeable staff is at your service.
Catering to the needs of business travelers, the hotel offers a co-working space equipped with modern amenities, creating a conducive environment for productivity amidst the urban buzz.
Elevate your stay with a visit to the hotel's rooftop lounge. Here, you can savor panoramic views of the city's skyline while enjoying a carefully crafted cocktail or a gourmet snack, creating moments of serenity amidst the urban excitement.
Stay connected throughout your stay with complimentary Wi-Fi access, ensuring you can effortlessly share your Chicago adventures or catch up on work while basking in the comfort of your room.
For those eager to explore the city at a leisurely pace, The Hoxton, Chicago, offers bicycle rentals. This environmentally friendly mode of transport allows you to discover Chicago's hidden gems and picturesque neighborhoods at your own pace.
The Hoxton, Chicago, prides itself on its thoughtfully designed rooms adorned with contemporary flair. Each room is a stylish sanctuary, marrying modern aesthetics with comfort to create an inviting atmosphere.
The hotel boasts on-site dining establishments where you can indulge in delectable cuisine without leaving the premises. Immerse yourself in a culinary journey that reflects the city's diverse gastronomic landscape.
Seasonal promotions and attractive package deals.
Mid-range to upscale.
The Hoxton, Chicago, exudes a trendy and dynamic ambiance, making it an excellent choice for young travelers and those in pursuit of a vibrant urban experience.
The Publishing House Bed and Breakfast
Location: 108 N May St, Chicago, IL 60607, USA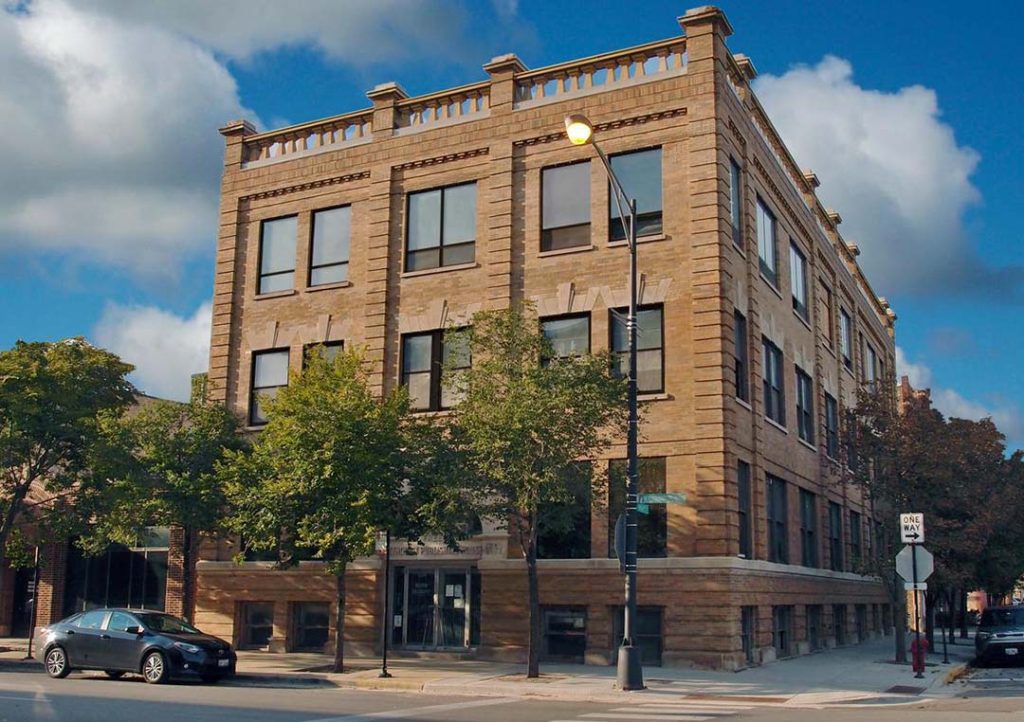 Tucked away in the West Loop neighborhood, The Publishing House Bed and Breakfast provides close proximity to cultural attractions, dining venues, and art galleries.
Gourmet breakfast, personalized concierge services, evening wine and cheese receptions, complimentary Wi-Fi, and the availability of private event spaces.
Cozy and uniquely adorned rooms, a library for leisurely reading, and a charming garden area.
Seasonal packages and options for romantic getaways.
Mid-range to upscale.
The Publishing House offers an intimate and cozy atmosphere, ideally suited for couples and travelers seeking a more personalized experience.
The Langham, Chicago
Tucked away at 330 North Wabash Avenue in the bustling heart of downtown Chicago, The Langham stands as a beacon of refinement and luxury. This urban oasis boasts a prime location that not only offers guests stunning views of the Chicago River but also places them within arm's reach of some of the city's most iconic landmarks.
Here, guests can pamper themselves with indulgent treatments, massages, and therapies that melt away stress and rejuvenate the body and soul. The spa's tranquil ambiance and expert therapists ensure a blissful experience.
The tradition of afternoon tea takes on an elegant flair at The Langham. Settle into a refined atmosphere and savor a delightful selection of teas, finger sandwiches, scones, and pastries. This cherished ritual invites guests to unwind and indulge in a taste of British sophistication.
Health and wellness enthusiasts will appreciate the hotel's 24-hour fitness center, equipped with state-of-the-art exercise machines and free weights. It allows guests to maintain their fitness routines at any hour, ensuring a well-rounded and invigorating stay.
The Langham's commitment to excellence extends to its room service, which is available around the clock. Whether you crave a midnight snack, a gourmet breakfast in bed, or a late-night indulgence, the hotel's culinary team is at your service to satisfy your cravings.
To enhance your stay and facilitate your Chicago experience, The Langham provides a dedicated concierge team. They stand ready to assist with restaurant reservations, ticket bookings, and insider tips on exploring the city's cultural offerings.
Spa packages, weekend getaways, and exclusive promotional deals.
Upscale to luxury.
The Langham, Chicago, epitomizes luxury and refinement, catering to travelers in pursuit of a sophisticated experience right in the heart of the city.
The Gwen, a Luxury Collection Hotel
Location: 521 N Rush St, Chicago, IL 60611, USA
Situated on the renowned Magnificent Mile, The Gwen provides easy access to upscale shopping, fine dining establishments, and cultural attractions.
A rooftop terrace with captivating views, a 24-hour fitness center, pet-friendly accommodations, in-room spa services for ultimate relaxation, and personalized concierge services.
Contemporary and comfortable guest rooms, an inviting outdoor terrace, and an upscale restaurant offering culinary delights.
Weekend packages, dining credits, and enticing seasonal promotions.
Mid-range to upscale.
The Gwen masterfully blends modern luxury with its prime downtown location, making it an excellent choice for those seeking to explore Chicago's upscale shopping and dining scene.
Viceroy Chicago
Nestled gracefully at 1118 North State Street in Chicago's historic Gold Coast neighborhood, Viceroy Chicago invites guests to embark on a journey through time and elegance. The hotel's strategic location places it amidst the timeless charm of historic mansions, boutique shops, and the serene allure of Oak Street Beach.
The crown jewel of Viceroy Chicago is undoubtedly its rooftop pool and bar. Here, guests can bask in the sun or take a refreshing dip in the pool while enjoying breathtaking views of the cityscape. The rooftop bar offers a selection of refreshing cocktails, making it the perfect spot to unwind and savor the moment.
Health-conscious travelers will appreciate the hotel's fully equipped fitness center. It provides a comprehensive range of exercise equipment, allowing guests to maintain their fitness routines and well-being throughout their stay.
For those eager to explore the city at a leisurely pace, Viceroy Chicago offers bicycle rentals. This eco-friendly mode of transportation allows guests to effortlessly discover Chicago's hidden gems, picturesque streets, and charming neighborhoods at their own pace.
Viceroy Chicago warmly welcomes four-legged companions, ensuring that your furry friends enjoy the same level of comfort and hospitality during your stay.
The hotel's personalized concierge services are designed to enhance your stay and make your Chicago experience unforgettable. Whether you seek restaurant reservations, tickets to cultural events, or insider tips on the best local attractions, the dedicated concierge team is at your service.
The guest rooms at Viceroy Chicago exude elegance and sophistication. Impeccably designed, they feature plush bedding, upscale furnishings, and tasteful decor that create an inviting and serene atmosphere for relaxation.
The hotel boasts on-site dining options that offer culinary delights to satisfy even the most discerning palates. Whether you're craving a gourmet breakfast or a sumptuous dinner, the restaurants within the hotel ensure a delightful dining experience.
The rooftop lounge at Viceroy Chicago beckons guests to take in captivating views of the city. It's a perfect spot for socializing, enjoying a nightcap, or simply reveling in the mesmerizing urban landscape.
Seasonal packages, spa credits for indulgence, and discounts for extended stays.
Upscale to luxury.
Viceroy Chicago delivers a sophisticated and upscale experience within a historic neighborhood, making it an exceptional choice for travelers in pursuit of luxury and culture.
Chicago is a city brimming with diverse experiences, and your choice of accommodation can significantly elevate your visit. Whether you prefer an artsy neighborhood, luxury in the heart of downtown, or a cozy bed and breakfast, Chicago offers boutique hotels to match your preferences. Drawing from my personal encounter with The Robey Chicago, I can attest to the captivating charm and quality of boutique hotels in this city. Ultimately, your selection of where to stay hinges on your individual preferences, budget, and the type of Chicago experience you aspire to have.