1. Calgary: Gateway to the Rockies:
Commence your adventure in Calgary, a bustling metropolis situated at the doorstep of the Rockies. Explore the city's rich cultural offerings, delightful dining options, and lively arts scene before venturing into the mountains.
2. Banff National Park: A Natural Marvel:
A short drive from Calgary takes you to Banff National Park, a UNESCO World Heritage Site renowned for its crystalline lakes, rugged peaks, and diverse wildlife. Hike the trails, seek out wildlife, or simply bask in the awe-inspiring vistas.
3. Lake Louise: Alpine Elegance:
Visit the iconic Lake Louise, where pristine, emerald waters are cradled by towering mountains. Stroll along the lake's edge, paddle in a canoe, or indulge in a classic afternoon tea at the Fairmont Chateau Lake Louise.
4. Moraine Lake: The Valley of the Ten Peaks:
Make sure not to miss Moraine Lake, celebrated for its striking reflections and the encircling embrace of ten majestic peaks. This glacial gem is a paradise for photographers.
5. Jasper National Park: Wilderness Untamed:
Head north to Jasper National Park, the largest in the Canadian Rockies. Explore the Athabasca Glacier, relax in the Miette Hot Springs, and ascend the Jasper SkyTram for sweeping views of the mountains.
6. Icefields Parkway: The World's Most Scenic Drive:
The Icefields Parkway, a picturesque highway linking Jasper and Banff, offers awe-inspiring vistas of glaciers, cascading waterfalls, and rugged mountain terrain. Pause at scenic viewpoints and embark on short hikes to fully immerse yourself in the scenery.
7. Yoho National Park: Hidden Treasures:
Cross into British Columbia to uncover Yoho National Park, home to natural marvels like Takakkaw Falls and the Burgess Shale fossil beds. Hike through ancient rainforests and marvel at the vivid waters of Emerald Lake.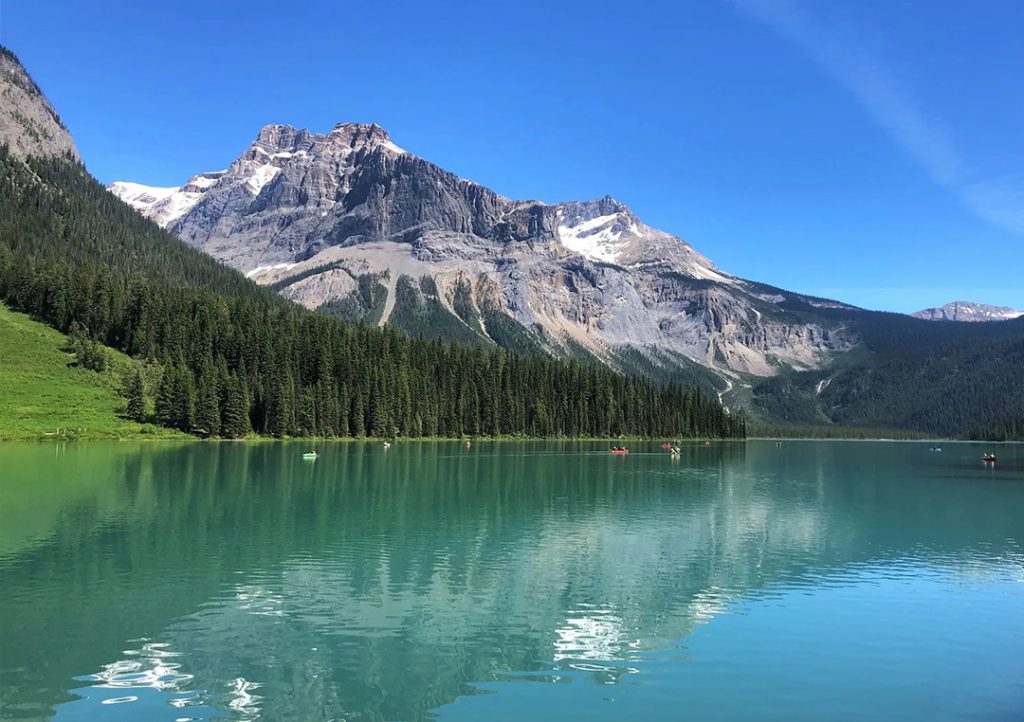 8. Kananaskis Country: Nature's Playground:
Return to Alberta and explore Kananaskis Country, a lesser-known gem teeming with hiking trails, pristine lakes, and opportunities for horseback riding and mountain biking.
9. Wildlife Encounters:
Keep a vigilant eye out for wildlife such as bears, elk, and bighorn sheep throughout your journey. Always maintain a safe distance and adhere to local guidelines for observing wildlife.
10. Stargazing: A Celestial Symphony:
The Rockies offer some of the finest stargazing opportunities in North America. On clear nights, gaze in wonder at the Milky Way and constellations, far removed from the glow of city lights.